Congratulations are in order if you've recently gotten engaged.  Now comes the fun of announcing, planning, and preparing for the journey that will lead to your wedding day.  The first step begins with your engagement as you choose a photographer to take your engagement photos. How do you know which direction to go? There are so many ideas out there.  The amount of inspiration on Pinterest alone is staggering. Narrowing it down to a favorite or favorites can be an overwhelming task. With so many choices where should you start?
Try to avoid cliché ideas by personalizing your engagement photography. As the years go by you'll want to look back at your photographs and be reminded of what it felt like starting out together as a young couple. Dont let your  photos be distracted from that goal by overly posed expressions or props that are kitschy spelled with a capital K. Connect with things that have a lot of meaning to you.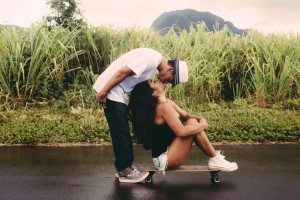 Its best to collaborate with a professional photographer who has the ability to see moments and the skill set to capture them with creativity. I always spend some time getting to know my clients a little bit ahead of the shoot to discuss what their vision might be and how I can best help them.  To go one step further I actually include a complimentary engagement session with all my weddings packages.
What to embrace in your engagement photography:
Embrace anything that shows both your personalities and your relationship. Hairstyles and fashions will change in 20 years  your engagement photos will probably look dated so let them show what your relationship was like at that time. Think about what is special to you and your fiance right now.
Consider locations like your favorite coffee bar with your favorite drinks, an afternoon date reading cuddled up in a blanket, stealing a kiss outside your favorite café, or practicing your first dance on that private slip of a beach where he proposed. Think about what you like to do as a couple on a quiet Saturday afternoon then bring in the photographer whose talent is to capture the moments that really say who you are as a couple.
What to avoid in your engagement photography:
Balloons. Seriously unrealistic. When is the last time you walked down the sidewalk holding hands with a bunch of balloons? Never?  These photos    might sound or look cute but is this who you really are?
Scrabble tiles. Overused. Unless you are a huge fan of board game shenanigans skip them.
Signs that say "He Asked!" Or "She Said Yes!".  This cute engagement idea has been used and re-used.  Think about it. If you plan on sending your engagement photo to your friends and family it's probably a safe bet that they know you've already said yes. Do we need to reiterate?
Umbrellas (unless its raining).  I'm always surprised when I see this. Why would you take a picture holding an umbrella when it's not raining? If it is raining then this could be a fun idea.
Of course ultimately, its your choice as a couple what to include or exclude from their engagement photos. Just remember you that your relationship should be the focus because at the end of the day that's all that really matters.