As the seasons shift from summer to winter on Kauai, I reflect on the portrait and wedding photography I've been doing this past year and the wonderful clients I've had the privilege of meeting. Here on the Garden Isle of Kauai we're beyond blessed to be literally surrounded by many of the most unadulterated, pristine, stunning beaches in the world. Kauai is a natural choice for people to celebrate, whether they're engaged, newlywed, or renewing vows after decades of life together. As a wedding photographer living in this island paradise, I am so fortunate to have the opportunity to capture these couples' magic moments.   I'm also fortunate to have the time and freedom to familiarize myself with many of the beaches and special hidden gems on Kauai so that I can personally recommend spots to my clients. The abundance of beautiful Kauai beaches can make it rather difficult to narrow down the options, and a lot of it comes down to personal preference, but I've listed some of my absolute favorite romantic beaches on Kauai for weddings, engagements, vow renewals, or just saucy picnic dates with a bottle of wine and your favorite person.
When I'm working with a couple, I can't just shoot the pictures. I become part of the intimate moments that I'm capturing. During shoots at Kalapaki Beach, I often end up getting chills at the love between the two beautiful people in front of me as the outrigger canoes and cruise ships come and go out of
Kalapaki Beach is in front of the Kauai Marriott Beach Resort near Nawiliwili Harbor, and is sheltered from the open ocean by a beach break wall, giving it a serene quality perfect for quiet magical moments.
During shoots here, the noise of the outside world fades away and I get to see the genuine selfless care the lovers in front of me have for each other. Sometimes it's hard for me to keep a dry eye.
During a recent vow renewal photo shoot I did at Anini Beach (southeast of Princeville on Kauai's North Shore), the vows were so raw and touching. I got the feeling that the couple was really there for one another and that they were genuinely so in love that they would make it through the trials and tribulations of a lifetime together. Anini Beach is an ideal spot for a romantic photo shoot because of its ample beauty and tranquil waters, protected by Hawaii's largest coral reef. Even with the rough wintertime swells, Anini remains good for swimming and is peaceful. I love doing wedding and engagement photo shoots at Anini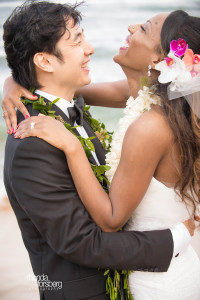 because it has some private spots which have beautiful light that illuminate the blues of the ocean, sky, and the golden sands that Kauai is known for.
I love doing photo shoots at Shipwrecks Beach on Kauai's south side because even though it's usually sunny and has picturesque sunsets, it's typically less crowded than other Po'ipu beaches. It's also adjacent to the start of the Mahaulepu Heritage Trail, which climbs over a jutting cliff formation that makes an amazing backdrop for photos, or for those couples who are really daring, a thrilling spot to cliff jump into the ocean during high tide, as Harrison Ford and Anne Heche did in 6 Days and 7 Nights. It's hard to put a finger on, but the energy of Shipwrecks beach is just incredible. Some of my favorite wedding and engagement shoots are at Shipwrecks.
For me, part of the process of shooting the perfect wedding, engagement, honeymoon, or vow renewal pictures is becoming acquainted with the lovely couples I work with.  Kauai has a wide variety of beaches and each has its own "personality" just as each pair of lovebirds do. After I get to know my clients I'll often suggest locations based on an intuitive feeling based on years of experience doing photo shoots on Kauai. I guess that's what some people call wisdom. When I match up the energy and personality of a Kauai beach with the couple I'm working with perfectly, I find that it's just so easy to capture the natural joy that's present.
The beauty of Kauai and the beauty of the lovers' connection blends seamlessly together and makes my work a true pleasure. If you live on or are coming to Kauai or any of the islands and are planning your wedding photography I would love to assist you. A special day calls for a special location and one of Kauai's best wedding photographers. Fill out the form to your right and I will promptly connect with you.